THE PERFECT ACCESSORY FOR DOG WALKS
Our Portable Dog Water Bottle & Feeder is an easy to carry water container with food storage, perfect for those long walks with your fury friends!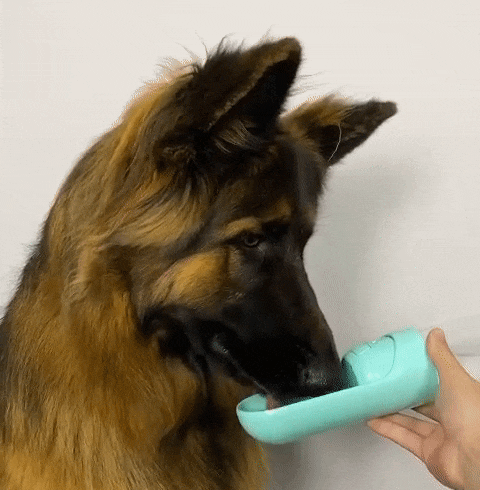 Its smart compact design has two compartments, which can hold both food and water.
Water Container- Comes with a capacity of 258ml, to keep your pup thirst free during those long trips!
Food Container- Comes with a capacity of 200ml, perfect for the occasional treat during your walk!
Pet owners know how important hydration is to their pets, especially active or young puppies. For those who are always bringing their pets with them whether it's walking, hiking, running, or just a trip to the park, the Portable Dog Water Bottle is perfect for any occasion.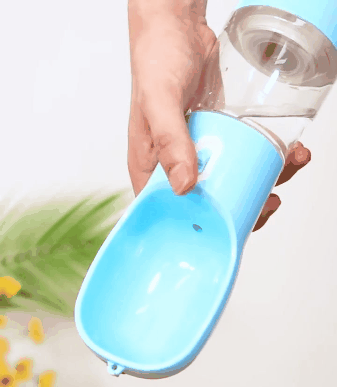 EASY, PORTABLE & CONVENIENT
The Portable Dog Water Bottle was designed for convenience in mind with its one-hand, one-button operation. Tilt the bottle down, push the button and water will dispense into the bowl.
There is also a lock button feature which is designed with a silica gel seal ring that prevents water from leaking or spilling when not in use. It's lightweight, portable, and easy to carry in your bag, backpack, or hang on a sling.
PEACHY FEATURES
🍑  QUICK & CONVENIENT— One-hand operation makes it easy to feed water to your thirsty doggy.
🍑  PERFECTLY SAFE — High-quality antibacterial material, FDA approved, lead-free, BPA-free, safe & durable, easy dismantling/cleaning.
🍑  LEAK PROOF LOCK— The Silica gel seal ring makes sure that the water doesn't leak in your bag.
🍑  DURABLE & EXPANDABLE — The removable top can be washed and easily re-attached to the water bottle.
🍑  EASY FOR TRANSPORTATION — This compact water bottle is great for walking/hiking and traveling with your dog regardless of where you go.

We offer a
risk-free 30-day money-back guarantee
, visit our
returns policy
for more details.
Have a question? Feel free to send us an email at
sale@gemdrone.com
and we will endeavor to respond within 24 hours.