🤩Baby hands don't get dirty after the sign🙌
🥜Safe, non-toxic washable🥜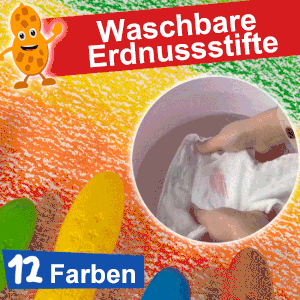 Now young toddlers can express their creativity by coloring them without messing up your home! It is washable! Easy to wash off clothing and most surfaces with just damp sponge and water wash! They won't stain children's hands and are difficult to break, a totally affordable option than traditional colored pencils. Its ergonomic shape is suitable for easy gripping with small hands! Let your kids experience quieter and easier filing so that dyeing becomes a lot more enjoyable!

✨Highlights:
Safe & Non-Toxic Material - Children's peanut-shaped colored pencils are made of non-toxic material (resin, food grade paraffin, medical talc, and food grade pigment). Total safety for children, children, girls, boys and toddlers.

Easy grip for small hands - 3D colorful peanut-shaped finger pens are specially designed for children. The little hands of toddlers can easily gild these crayons so that they can draw and paint with ease.

Washable and does not stick to the hands - washable wax crayons in colorful 3D colors are super easy to put on and take off. They have a smooth surface that won't touch your baby's hands. They can be washed with hand soap. The fingers are not stained with the colored pencils, so parents can entertain their children without messy consequences.

Colorful, dust-free - The Peanut colored pencil set contains crayons from December 24th, 2016. The colorful washable crayon is not only used as a painting pen but also as a learning block toy that can improve your babies' cognitive color literacy and creativity.

Stimulation for creativity and imagination - peanut-shaped finger pens not only paint colored pencils, but can also be used as children's toys for the kitchen. They encourage children's imagination, creativity and independence. They are special gifts for boys, girls, toddlers, children.

🌵Specifications:
Material: high molecular weight microcrystalline wax, refined from natural minerals

Size of each crayon: 60 * 15 * 12mm

Safety standard: EUR EG EN-71-3
🎁Package includes: